Gonda, Kurabuchimachi, Takasaki-shi, Gunma 370-3401
TEL 027-378-4555 FAX 027-378-4322

Copyright Haruna no Mori Country Club Ltd.
All rights reserved.


Gonda, Kurabuchi-machi, Takasaki-shi, Gunma 370-3401
TEL 0120-562-118 FAX 027-378-4322



Course Guide
Jack Nicklaus, winner of 100 professional golf tournaments and world-class golf course designer outdid himself when he built the masterpiece at Haruna no Mori CC through an ancient pine forest on the slopes of Mt. Haruna in Gunma Prefecture with the magnificent Mt. Asama in the background.

In order to achieve perfect contrast and vividness of colour he added local maple, ash, birch and beech trees. The course is beautifully manicured from tee to green, and the palatial clubhouse is exquisite yet warm and welcoming.

In keeping with his strategy of desiging a course that is playable for everybody, five different sets of tees were constructed, allowing all different levels of golfers to choose the tees best suited to their game for an enjoyable and memorable round.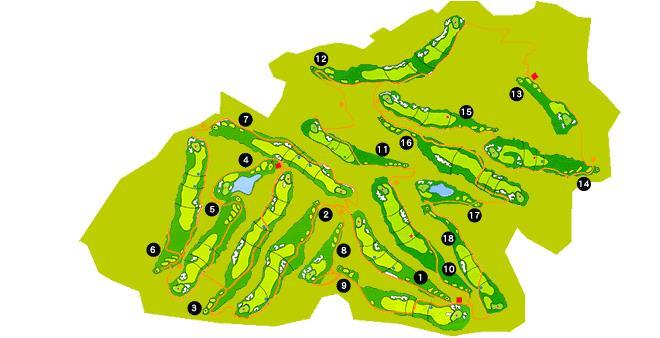 SCORECARD (Distances in yards)
Hole
Par
Hcp
Jack's Tees
Championship
Regular
Senior
Ladies
1
4
15
428
408
382
364
277
2
4
9
457
433
408
358
324
3
5
3
555
531
509
474
474
4
3
13
160
144
123
102
102
5
4
7
362
344
331
314
296
6
4
1
465
431
413
398
318
7
5
11
503
492
472
445
407
8
3
17
204
183
154
133
133
9
4
5
442
419
396
295
295
36
3,576
3,385
3,188
2,883
2,626
10
4
10
451
428
406
362
274
11
4
16
364
342
328
311
298
12
5
4
530
484
476
471
431
13
3
14
192
173
148
127
127
14
4
8
372
345
310
285
268
15
4
2
412
386
361
334
282
16
5
12
549
526
502
480
428
17
3
18
191
161
144
123
123
18
4
6
417
390
343
300
300
36
3,478
3,235
3,018
2,793
2,531
72
7,054
6,620
6,206
5,676
5,157